⇷

Molly Foulkes

⇸

Molly Foulkes lives and works in Southampton. She is the Creative Young People's Producer at a local arts venue where she works to expand the arts opportunities for young people offered there and across the borough. Lockdown, and a reply from Jerry Saltz to her tweet, have recently nudged her to return to her art practice.

mollyfoulkes.com
Twitter @foulkes_molly
Instagram @molly_foulkes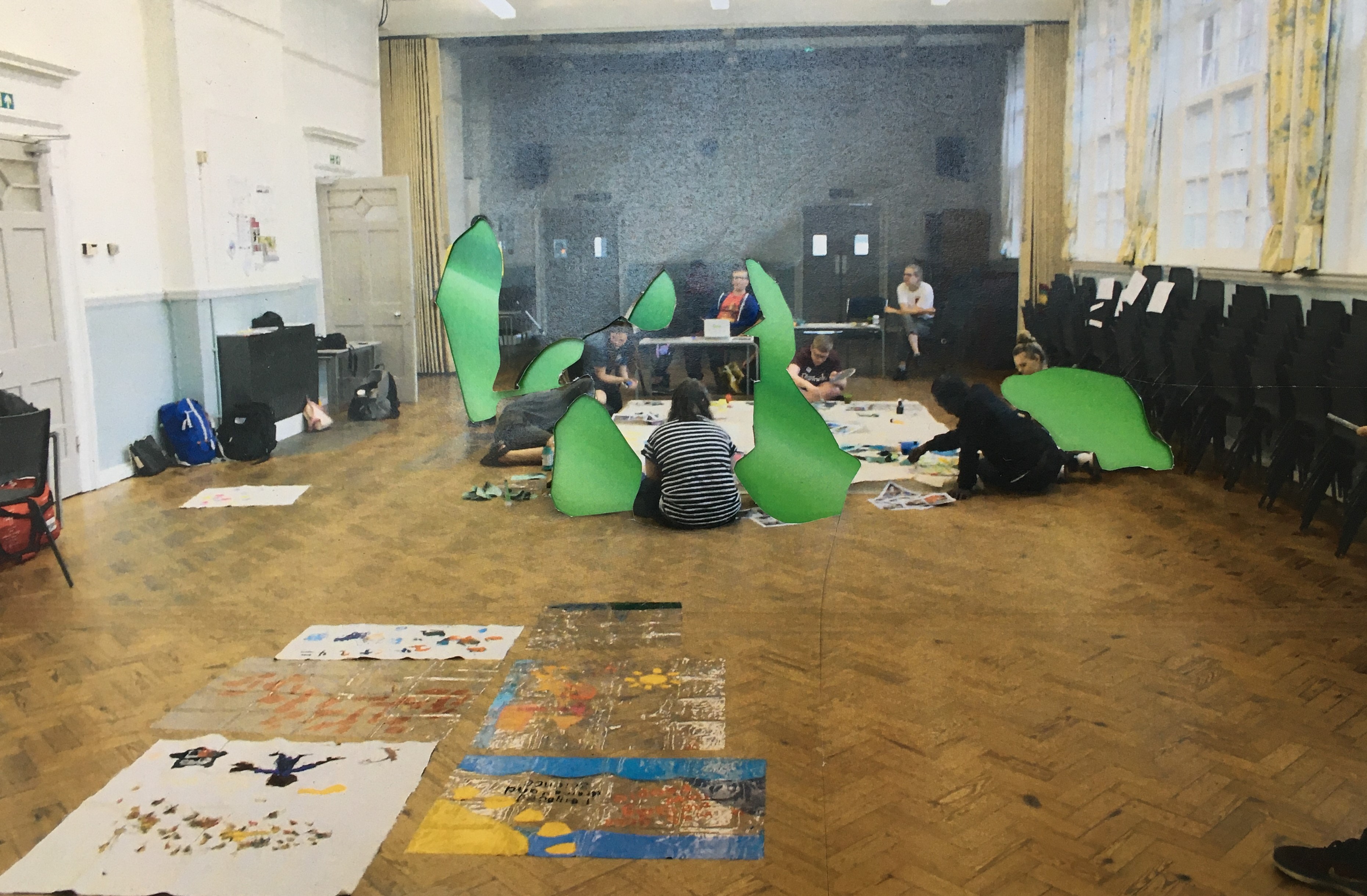 Socially Engaged Distanced Art

In the UK, for around the past 10 weeks, we have been practising the art of social distancing, dancing round strangers passing us on pavements and following one way systems on our supermarket trips. The recent emergence of a new coronavirus, otherwise known as Covid-19, has plunged the world into varying forms of 'lockdown' where commodities and activities have been labelled as either essential or unnecessary. In March, galleries, cinemas, leisure centres, libraries, theatres, gyms, etc were understandably all forced to close to slow the spread of the virus. Far in the background of this (and rightfully so) the socially distanced turn of art is simmering away, complex and yet unknown.

The pandemic we are currently in is having an impact upon our concept of care, perception of social paradigms and shifting our language surrounding health. Public spaces where exchanges usually occur are no longer part of our daily routines. We've dived head first into a black mirror episode, a vast amount of spaces void of conversation and encounter—stagnant in this interim period.

Last year, I wrote Art as Therapy within Socially Engaged Practices exploring the relationship between the art and health world with a particular focus on socially engaged practices and the ways in which they are linked to a holistic sense of health. It touched on the vacation of social workers from public spaces resulting in 'art workers fill(ing) the growing abyss of social workers' and the potentially problematic repercussions of this as art projects are offered as palliative solutions. The text unpicked the benefits of socially engaged practices influencing health and wellbeing and focusing on the positives of exchange, encounter and community. The works this conversation orbited are artist Shepherd Manyika's Let's Decorate the Playground and Sound Opus, and South London Galleries young artists collective The Art Assassin's For Some Future Time project (all 2018).



Shepherd Manyika, Let's Decorate the Playground, Elmington Estate. Photo: Samantha Lippett
I'm curious to return to aspects of this text one year on, in the midst of these 'unprecedented' times perhaps mutating or accelerating the conversation and narrative surrounding socially engaged practices and its relationship to the health world. How are social practices framed in this 'new normal'? How might this form of contemporary art function now or in the near or distant future? To what extent has our understanding of the politics of health shifted?

During 'the time of corona', the absence of the core features that make up so called relational aesthetics has amplified our sense of isolation and loneliness. Collaboration, exchange, encounter is different. I have found myself reimagining past projects, where groups of young people with learning difficulties and volunteers were in a hall together, and thinking about the impossibility of creating an environment like that for some time. However if I was embarking on that project now, the changes I would be required to make may perhaps allow more time, space and thoughtfulness to sit behind the work. One thing is for sure, parts of it would exist virtually.



Artist's own image, May 2020

Technology (for those who have access to it) is now the mechanism used to fill the loss of social connection. Replacements in the form of Zoom, Houseparty and Facetime emphasise our sense of seclusion. Suddenly the presence and absence of others has become such a significant and inescapable factor of our lives. Energy that is created in a virtual space is interrupted with glitches and unstable internet connection, vanishing instantly when the meeting ends so you are left staring at a throbbing screen. As social encounters are prohibited, ill-advised, recommended against and forbidden, our digital experiences are warped, making them both exhausting but appreciative.

Part of my text last year focused on PACK_ITON, a programme 'on, in, at, for, with and about Packington Estate' in Islington, London. This was an initiative set up by AIR which is an organisation interested in the 'field of artistic interventions and the multiplicity of social spaces outside of traditional institutions in order to oppose the programme of the total social mobilisation of capitalism.' Shepherd Manyika's Sound Opus was commissioned as part of this project that took place in the summer of 2018. Manyika is an artist and educator who I have worked with previously during Cubitt Galleries Institute of Anything intensive summer school for young people working towards their Bronze and Silver Arts Award at Central Saint Martins. Sound Opus was a portable recording system constructed from a trolley that was used to venture around the community collecting sounds becoming a storytelling device.

Claudia Janke, a German photographer and artist based in London, also formed the PACK_ITON body of public artwork with Wavelength. 'Wavelength connects people in solidarity and friendship through the universally recognisable and cross-cultural gesture, the wave'. The artist collected a series of films of residents waving at a drone for a prolonged number of seconds, capturing more than a simple gesture. Around one hundred residents from across the estate were filmed waving from windows, balconies and doorsteps. The resulting film was then screened on two 12ft screens positioned to face each other from across a community square in Islington where residents were invited to watch themselves and their neighbours on beanbags whilst a cellist played live music. Described as a 'community strengthening public artwork' by the artist, it represents the unity of individuals that make up a collective community.



claudiajanke.com/wavelength

Wavelength has since developed as Janke took the project across Europe over September and October 2019 managing to film 265 video portraits of European residents throughout her journey. Individuals, families or groups of friends are filmed by the artist from a short distance to capture both body language and facial expressions. These moments are posted to Instagram where gradually the number of bodies participating in the project grew, becoming diverse and inclusive.

Yet again Wavelength has progressed further, morphing into another participatory project during lockdown. Wavelength-Inside Out is a series of videos of people waving - this time from inside their homes. It has found a way to adapt, connecting people despite not physically seeing them in person. On reflection there has always been a sense of that digital barrier as we watch the captured communities of people through a screen, whether through our phones or a 12ft projection. The difference between this newer model of Wavelength and the older structure is the sudden invasion into personal spaces. Where previous videos were captured outside, we have now stepped through the doorway. There is still a hint of defying our suppressed social relations during this time and the limitations of physical encounter highlight 'the time of coronavirus'.

The work is contributing to the changing narrative associated with the term 'social' that has taken on new meanings during this time. Social distancing, social isolation, quarantine, lockdown, 2m distance, staying at home, staying alert—these are phrases that we've been introduced to and become familiar with. We have adapted quickly to these languages surrounding health. However, they seem to place responsibility on individuals, rather than collective wellbeing. These terms construct invisible barriers and borders between neighbours.

The act of stepping through the doorway—or possibly more of a portal—into the personal spaces of families, friends and individuals is, in some ways, reflective of the infiltration of increasing privatisation on public spaces. Whilst I may have previously thought the blending of our work, social and educational spaces could contribute to a holistically linked perception of wellbeing, it feels like it has been further marginalised. Despite the government claiming coronavirus is an equaliser and that we will get through it together, the deep divides caused by austerity and neoliberalism have been widened.